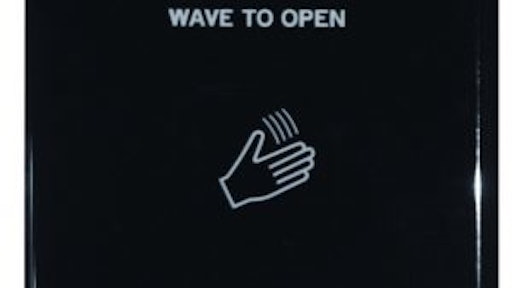 andersonlock.com
In response to the start of the Coronavirus disease (COVID-19) pandemic, the focus is on reducing the transmission of germs since hands-free environments are quickly becoming standard in public buildings. Touchless door activation devices are in high demand for public restrooms, offices, and healthcare buildings.
ADA accessibility guidelines led the introduction of pushbutton door activation devices for doors with automatic operators. Now, pushbuttons are being upgraded to "wave-to-open" switches or RF (radio frequency) devices to accomplish hands-free methods of door control. Instead of pressing a button, which could lead to transfer of germs from hand to button or button to hand, a person must simply wave their hand in front of the actuator. The motion prompts the opening of the door, avoiding any spread of germs.
Choosing the best touchless solution for your doors isn't always simple. Auto operators will only function if the other hardware is compatible with automatic opening. According to andersonlock.com, an electric strike will release a latch when signaled by an actuator. Another option is connecting to an exit device that has built-in electric latch retraction. These may require additional door accessories and power transfers to create a complete system.
According to ASSA ABLOY,
touchless solution b
enefits
include
:
Sensor in wave-to-open switch detects motion and opens door without touching hardware and transferring germs

Convenient kits simplify the ordering process and ensure use of the correct components

Industry leading products offer reliability and durability

Kits available for doors with or without locking hardware to transform any opening

No additional power supply needed for accessories

(

o

perator powers both wave-to-open switch and electric strike

)

Precision sensor ensures door is opened only when intended when movement is detected within 0" to 4" of the wave-to-open

switch

Wave-to-open switch can be set to hold door open anywhere between 0--

30 seconds