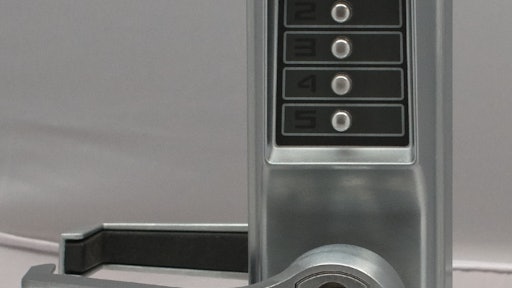 Simplex Lock
It might be the most ubiquitous security device on the planet. As the mechanical push-button lock prepares to celebrate the 60th anniversary of its inception in 2021, it remains the most popular lock in the security marketplace and one of the most purchased items.
It seems appropriate to take a retrospective of this security workhorse while many in the locksmith industry still grieve the loss of its inventor and greatest champion, Aaron Fish, who died in October 2020 at the age of 85.
The push-button lock might have been borne of necessity and driven by a passion to solve security challenges that to many seemed to have no solution. But for Fish and those who shared his entrepreneurial spirit during varying whistle-stops at Unican, Ilco-Unican and Kaba-Ilco, there never was a doubt about the overarching mission service to the client and service to the community. That mantra never has wavered through the six decades of product development and innovation or the changes in ownership or leadership. The little lock that changed an industry still is built with the singular focus to serve and protect.
Fish once told a major Canadian newspaper years after he sold his company in 2001 to the Kaba Group of Switzerland, "When I would meet with my shareholders, I would tell them that our customers are the most important component of our company. The next most important were the more than 600 factory workers in the City of Montreal. By the virtue of the two working together with our company, our shareholders were successful."
The 2015 merger of DORMA and Kaba ensured that the early ideals and motivation to excellence and customer service established by its predecessors would endure. The dormakaba that emerged is an industry leader in technology and innovation, with more than 150 years of experience and millions of installations worldwide, ranging from push-button locks and door closers to entrance systems, interior glass and fully networked and integrated access control solutions.
A Lock and a Prayer
The irrepressible Fish grew up surrounded by locksmiths, including his father. A business that began on the back of Fish's bicycle — selling keys in the heart of downtown Montreal after graduating high school — quickly morphed into his first company, Security Hardware. Fish operated the business from the basement of his first home in St. Laurent, Quebec.
In 1961, Fish was summoned by John Marrett, then coordinator for security and industrial defense at Bell Canada. Marrett outlined the necessity for a mechanical keyless access control system. Bell Canada's request was a tall order, even for the forward-thinking Fish. He admitted that even when looked at through the eyes of a young "anything's possible" entrepreneur, the realities of the requirements were frightening. Around this time, the Royal Canadian Mounted Police (RCMP) came looking for a similar locking solution.
According to Rick Shuford, CRL, CFL, CAI, a longtime product trainer for the Simplex technology at dormakaba, the RCMP wanted a remedy to a problem that was occurring at all of its outpost stations all across Canada. As the official said, "'When we get there, we can't get into the structure, because the locks that the key goes into are frozen because of the sleet, snow and ice. We want a lock that you do not have to have a key to open the door,'" Shuford remembers. Shuford adds that Bell Canada had the same problem — all of its field-switching outposts in Canada were inaccessible because the key cylinders froze.
In 1961-62, the security industry was in its infancy, but a tidal wave of innovation was on the horizon, leading to an onslaught of new device patents. At the same time, with the help of family and friends, Fish expanded his business to a 20,000-square-foot building on Montgomery Street.
Although those in the industry were eager to back the next big thing, convincing others in the business and potential investors that a keyless mechanical lock was possible proved difficult for Fish and his team. That was until his brother-in-law told Fish about an article he had seen in a national magazine that described a "digital" filing cabinet locking mechanism invented by Simplex Security Systems in New York. The intriguing lock had five push-buttons and more than 1,000 possible locking combinations.
The concept ignited Fish's project. The team figured it could use the concept, underpinning of the Simplex chamber, to build an access control system that would meet the demands of Bell Canada. In his biography, "Under Lock & Key: The Unican Story," Fish says he would house the system inside a mortise lock, which provided the right type of space to accommodate Bell's security requirement. Fish booked a meeting with Simplex General Manager David Creeden in New York and returned to Montreal with "10 cabinet locks in his suitcase" for testing. Unfortunately, they didn't work as fashioned, but Fish still believed that the concept was sound, and in 1964, the Unican push-button lock was launched, with Bell Canada placing the first 50 orders.
According to Locksmith Ledger International's longtime editor Gale Johnson, the Kaba Simplex mechanical push-button lock product line has been extended to include deadbolt locks, deadlatch locks, cabinet locks, control for electronic security and specialty products for operating aluminum door or exit-device applications.
Product categories include the 1000 series cylindrical locksets, 8100 series mortise locksets, 2015 series used for outer trim on exit devices, 3000 series for narrow-stile aluminum door locks, 6200 series auxiliary deadbolt locks, 7100 auxiliary latch locks, 900 series deadbolt or spring latch locks, 9600 series deadbolt or deadlatch locks, locks for cabinets and File Guard for two- to five-drawer file cabinets.
Dynamic Growth
Through the late 1960s, Unican continued to secure funding and the technology prowess to refine the push-button lock. But 1971 proved to be the pivotal year for Unican and the device. Fish and his partners acquired Ilco Corp., based in Massachusetts, which helped to build the company's executive infrastructure and add to its financial stability. When Unican finally shut down the Fitchburg, Massachusetts, plant because of antiquated production facilities and labor issues, Rocky Mount, North Carolina, became a hub of manufacturing. But no acquisition was more dynamic than purchasing a majority stake in Simplex, which was now the largest manufacturer of mechanical, combination, changeable push-button locks in the world.
In the beginning, though, except for the increasing number of special orders for the push-button lock among government agencies, the military and telecoms, the lock was failing to gain the traction among the locksmith community that Fish had anticipated. Tom Nazziola, the longtime vice president of sales and marketing for Ilco-Unican and Simplex, says he advised that a different sales tactic had to be employed. In the mid-1970s, Nazziola spent a week in Montreal training with the Ilco staff on the push-button lock and then was assigned lucrative territories in Northern New Jersey and Southern New York, including Manhattan.
"I was a special rep, because prior to that, Don Wright (Ilco marketing vice president) had his salespeople, the Ilco people, trying to sell the product," Nazziola says. "It was a technical product and a far change from selling keys and taking orders. That's why I was hired. After several months, I was given seven states, and I promoted that product to the various markets — mainly universities, hospitals and other institutional-type verticals. After several months, my sales were 77 percent of all the sales in the country.
"No disrespect to the Ilco salespeople," he adds. "It's just it was dumped on them, and they were used to just selling keys, key blanks and machines. This was a much more complex product, and there was a special story to tell."
A Change in Tactics
Nazziola soon was working with Creeden, who now was president of Simplex, on a strategy to build recognition and improve branding of the push-button lock in the locksmith community, knowing that it was regarded as more of an auxiliary lock in their circles.
"I was very accustomed to the entire line of locks, but my thought was, 'Why are sales not what I think they should be?' I finally realized that locksmiths are not buying it because they don't know anything about it," Nazziola explains. "I told Dave that we have to remove that obstacle and that fear, so they can be confident when purchasing them. It wouldn't be until we did that they would be able to then sell them.
"We were expanding the distribution so to speak," he adds. "The way to do that was through education. We had to educate the locksmith, so that's what I did. I started with a one-hour seminar that I would do personally. Then we moved to a four-hour seminar and then an eight-hour seminar, and the last seminar I gave was 16 hours, which was at the ALOA show. My goal was to make the locksmiths feel comfortable with the lock and not have them memorizing what I taught them but simply understanding the product."
For Nazziola, the Simplex push-button lock's place in history and its current stature in the industry is secure, he says, pardoning the pun.
"This product just opened up a whole new world for the locksmith and their customers," he says. "One of my favorite and magnificent words is 'awareness.' Somebody cannot buy something they're not aware of. What I decided to do, other than advertising in magazines, such as the Locksmith Ledger and The National, along with other security publications, was to advertise and use the publications in other vertical markets that were relevant. For example, I got a booth at the Glass Show several years in a row. Why? The 3000 lock was a narrow-stile push-button lock, and they would use them on aluminum doors with glass."
Shuford, who also dedicated his career to training locksmiths and other security professionals in the ways of the push-button lock, views the device as a transformational security product. He points out that in the mid-1960s, high security was defined by either the push-button lock or standard mechanical keys.
"People liked the convenience of the push-button lock," Shuford says. "We never have specified that the Simplex is a high-security lock, but it was designed both in essence for the residential area and the commercial/industrial area. As time went on, there were locks that kind of swung the pendulum towards residential and then others that swung towards commercial/industrial, but either way, it was actually way ahead of its time.
"Although there are and have been existing push-button mechanical locks out there, nobody, even in 2020, can compete with the Simplex locks that Mr. Fish designed," he brags. "Today, so many people still want to have some type of access control where they do not have to manufacture and issue keys. And these same customers say they only need one code, one key — that's it. That's why the Simplex products today are still an ongoing part of our valuable business at dormakaba. People still want it."