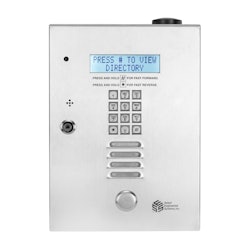 Select Entry Systems
Select Entry Systems, a Division of Select Engineered Systems, Inc. announced immediate availability of the TEC1ACL Series with "SCMI" providing owners with a single system - all-in-one - 4G / LTE / VoLTE perimeter access entry system capable of 1,000 user capacity, with two door card access and up to four cards per user code. Programming available through the cellular network via Selcom software. As with all cellular applications, the TEC1ACL with "SCMI" needs a paid monthly cellular service which is provided in collaborations with AT&T or T-Mobile. An active SIM with a Fixed IP 4G / LTE / VoLTE cellular service is included and shipped with all TEC1ACL Series units along with a 12V DC power transformer for a simple and convenient plug and play installation.
The TEC1ACL Series with "SCMI" allow units to call residents using 4G / LTE / VoLTE networks and eliminates landlines. When a visitor dials a resident on the TEC1ACL series unit, the call is routed through a 4G / LTE / VoLTE network. On answering, the resident can talk to the visitor and then press the Open Door touch tone on his/her phone to grant access. A Static or "Fixed" IP address is configured in the SCMI for programming the units.
The SCMI is shipped with activated cellular services within the US charged on a monthly basis to authorized dealers. For alternative 4G / LTE / VoLTE cellular service providers or outside of the US please contact SES for other solutions.
The TEC1ACL Series is part of the new Select Cellular product line and is sold as a single system, All-In-One cellular access solution out of the box without any external or secondary housing or enclosure. For system retrofit of existing CAT and TEC series, a plug and play solution that includes an external enclosure is required for mounting the SCMI. Two options are offered which include SCLRHD (weather resistant Stainless steel door and aluminum enclosure) or SCLRPC (Weather and waterproof NEMA rated polycarbonate enclosure).
TEC1ACL Series with "SCMI" is available for immediate delivery! Contact sales for additional information, pricing or to schedule a product DEMO Webinar.