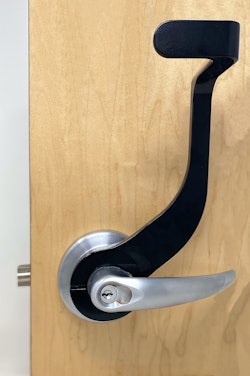 Securitech
Securitech announces the launch of Ayzre. It is the first hands-free door opener that extends above the lever, allowing latch retraction and pushing or pulling without the use of hands. Ayzre was developed in response to the global call for infection control and the prevention of community spread of COVID and will allow for hygienic operation of doors with latches.
Easily retrofitted and quick to install onto existing door levers, Ayzre provides an affordable, compliant, and ADA-accessible solution for facilities seeking to reduce touchpoints and improve health safety. Fitting over existing door handles, Ayzre's ergonomic design allows users to instinctively operate the door with an elbow or arm.
Ayzre is antimicrobial, fire-rated, and is designed for use with Grade 1 cylindrical lever locks, many mortise lever locks, and exit device lever trim. Ayzre maintains full fire- and life-safety code compliance and does not mar the door with new drill holes; it can be removed without any visible door alteration. The 100% mechanical hands-free attachment can be installed in under 10 minutes and comes with various inserts to ensure a tight fit to any door handle.