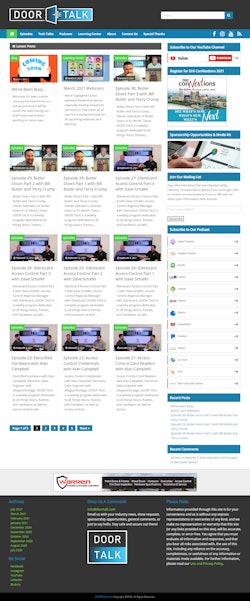 DOORTALK
Door Talk began as an idea at the beginning of the pandemic in early 2020 among its founders at Warren Doors & Access Control when, along with everyone else in the world, we quickly transitioned to a new way of communicating among our teams and business contacts. Over the first few months, we kicked around many ideas of how best to achieve our goal to connect safety & security professionals, educate our viewers, and promote the door industry in this fast-changing world and uncertain new future.
Ultimately, we decided to produce a weekly Door Talk program and Tech Talk videos to include product demonstrations, engaging interviews, and how-tos on various topics related to our industry. With such a big project in development, the team of Matt Gaines, Austin Watson, Dana Wetherbee, Patricia Barranco, Jason Wilson, Nathan Delcamp, Bobby Rosado, and Hannah Hargrove helped bring years of experience in the door industry, information technology, marketing, and video production to make Door Talk a reality. And while still fulfilling the duties of their day jobs working at a door company!
After much preparation and planning, we posted our first episode on YouTube and our website, DoorTalk.com, on July 30, 2020. Since then, our program has evolved over 30+ episodes and videos, and we have been elated to receive almost unanimous feedback from our guests and viewers that Door Talk was providing a much-needed platform for our industry. We look forward to many more episodes with industry experts, brand representatives, commercial hardware distributors, contractors, and specialty manufacturers resuming next month.
Taking a brief hiatus in Spring 2021 to evaluate our journey thus far, we decided it was time to begin the next phase of Door Talk. Our next big idea is already underway to create a social network app to connect door professionals and the non-residential construction industry. Our Door Talk app will bring all our video and blog content and other features into one, easily accessible platform while providing a place for all to contribute and collaborate. We welcome everyone to participate in our combined desire to benefit our industry by educating our customers and promoting our services to all. We hope you will find our content valuable and entertaining, and we very much want your input and feedback about how to make it better.
We invite you to sign up for our email newsletter at DoorTalk.com to stay informed about the latest content and announcements. Our social network app will be available by invitation to our subscribers by late August and widely available in October. Also please be sure to visit our booth at the DHI ConNextions convention exhibit hall on October 20-21 in New Orleans. Door Talk, AC Business Media and SafeSecureOpenings.com have teamed up to provide the latest news, developments, and resources to our combined audience. Thanks for visiting and check back often! Stay Safe and Secure Out There!
(Door Talk is produced by Warren Doors & Access Control, a commercial hardware distributor and access control integrator headquartered in Pensacola, FL. As a proud family-owned business, our team's mission is to supply the highest quality products in the door industry while building customer trust through superior service. Visit us online at SecuringTheSoutheast.com)