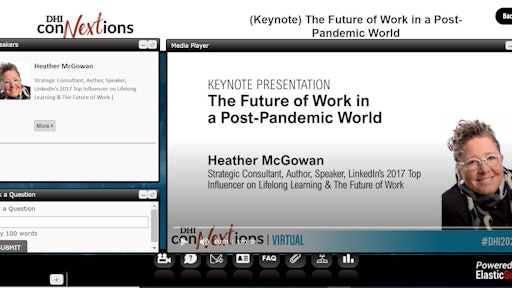 Keynote speaker Heather McGowan spoke on the second day at DHI conNextions Virtual about the future of work in a post-pandemic world, detailing three major key points from her book, including "the adaptation advantage" on how to manage work during and after a pandemic.
Key Points
Rapid learning, unlearning and adaptation

Let go of, "the way we have always done it"

Evolving leadership and becoming comfortable with vulnerability



The Coronavirus has been an accelerant for digital transformation. Within 50 years, companies became more profitable by making product faster and cheaper. In 2017, the Top 5 companies such as Apple, Microsoft, Amazon, and more are considered learning companies. "All of these companies win by learning faster than their competition," says McGowan.
Let Go and Learn Fast:
Skills to do - skills for which you are hired

Uniquely human skills plus traits- what makes you better at your job

Agile learning mindset - ability to learn and adapt

Resilient and adaptive identity - resilience and understanding of purpose



What makes for the
highest performing teams?
Consistently learn and adapt when imagining seems impossible

Let go of old ways and identify and embrace vulnerability
Try a different approach to lead an adaptive team
The virus is an opportunity, so use it
Output:
Brand plus product

Leadership drives productivity and efficiency
Input
:
Culture and capacity

Leadership that inspires human potential
"We need to remind people of what we've done and celebrate our successes. Look ahead and try to imagine or prepare for what we cannot imagine and that is the learning opportunity," says Mcgowan
"If you want to go fast, go alone. If you want to go far, go together," African proverb.