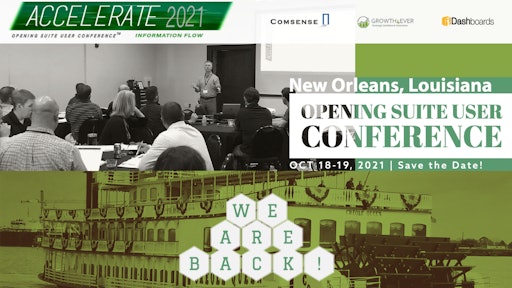 ACCELERATE
Come join other Comsense Opening Suite users at ACCELERATE 2021 on October 18-19, in New Orleans, LA. For the first time ever, ACCELERATE is co-locating with DHI conNextions, the only conference and tradeshow serving the non-residential door and hardware industry in North America. This makes it more convenient than ever and offers increased learning and networking opportunities.
This year's theme, "Information Flow", will deliver clarity and insight on how business information flows through Opening Suite. These insights will create opportunities for advanced analysis and reporting, enhanced decision-making and greater business results. ACCELERATE 2021 will be a hybrid of in-person and virtual sessions involving Lincoln Brill, Patrick Teas and the Comsense team.
The vision for ACCELERATE is to create a platform for Opening Suite users to come together and hone their skills. It was designed to allow users of all levels to learn from Opening Suite experts, share their experiences, explore best business practices and, most importantly, meet face-to-face with the creators of the ERP system that is the backbone of their business, Opening Suite. In meeting Patrick Teas and the Comsense team, attendees are able to ask questions, suggest features and be informed about the state of Comsense.
ACCELERATE was first launched in 2015 by Lincoln Brill, President of Growth4Ever. An Opening Suite and business analytics expert, he quickly recognized that users benefit by participating in a conference setting to fully tap the potential which Opening Suite offers the door and hardware industry. Lincoln's desire has always been to help companies be successful, grow, and be profitable. 
ACCELERATE has grown to be more than an Opening Suite conference. It is a hub for networking between door and hardware industry leaders and novices. It facilitates a relaxed, fun atmosphere packed with invaluable nuggets of wisdom that have helped attendees become more successful in their respective organizations. The conference is in its 6th year now and has been continually rated highly for content, atmosphere and networking.
For more info or to register for ACCELERATE 2021, visit www.growth4ever.com/accelerate/ 
For more info on DHI conNextions, or to register, visit www.dhiconnextions.com