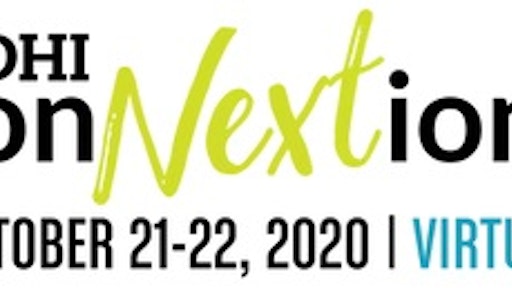 DHI conNextions
For the first time in over 40 years, the DHI conNextions show went virtual with over 500 attendees and over 25 exhibitors. The conference program occurred October 21-22 and featured 25 education sessions across four topic tracks: Codes, Business Management, Electronic Access Control, and Technical.  
With the understanding of the importance of connecting the door security and safety community, the show was able to offer a unique and engaging virtual event that allowed the industry to connect, learn, network, and discuss the challenges and opportunities in this new environment.  
On Day 2 of the event, keynote speaker, author, and LinkedIn 2017 Top Influencer on Lifelong Learning & Future of Work, Heather McGowen, examined how economic and social shifts are unavoidable and human adaptation is the only path forward. With powerful graphics and metaphors supported by extensive research, McGowan was able to take the DHI conNextions audience on a journey to help prepare people and businesses in a post-pandemic world. 
Many of the sessions were DHI-accredited for continuing education points (a total of 18 continuing education points). There was also live Q&A, which allowed attendees to engage and interact with expert speakers. 
One of the most popular sessions was "2021 Model Code Update" by Lori Greene, DAHC/CDC, FDAI, FDHI, CCPR, which took place on Thursday. "Lori Greene is one of the very best our industry utilizes for necessary code and standards information for our industry,", says an  attendee.  
"Show was great, exceeded expectations," says Ian Oxman, Co-Owners of Software for Hardware. Many attendees and exhibitors expressed excitement with the new format that was accommodating. 
"The exhibit was well organized, easy to navigate, provided good information, and good communication capability. It was a pleasant surprise as I have never attended a virtual event," says Joan Quinlan, Principal at Quinlan & Associates.  
The event is available On-Demand until January 22, 2021. 
Next year's event is planned for in-person in New Orleans, LA, October 20-21.  
Companies in this article