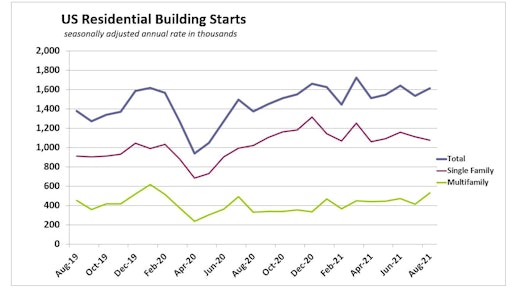 data: US Department of Commerce; graph: ForConstructionPros.com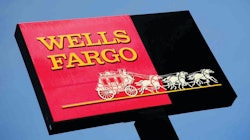 Single-family U.S. housing starts fell 2.8% in August, but the surging multifamily construction raised overall starts to beat expectations, rising 3.9%. Building permits jumped 6.0%. Total starts hit a 1.62-million-unit annualized rate after revisions raised the July totals, according to data from the Department of Commerce on Tuesday. The median estimate in a Bloomberg survey forecast a 1.55 million pace.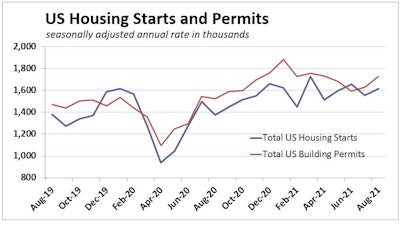 The drop in single-family starts has more to do with supply and labor shortages than weakening demand. "Builders are increasingly having to limit sales, as they are uncertain when they will be able to complete homes due to ongoing shortages of essential building materials," says Mark Vitner, senior economist with Wells Fargo Securities.
The impact of supply shortages shows up in the rising number of single-family homes that have been permitted but not started, up 1.4% in August and 50% over the past year. Shortages are widespread. Similar to what is happening in the auto sector, a single part such as panel box or wedge anchors, can hold up construction.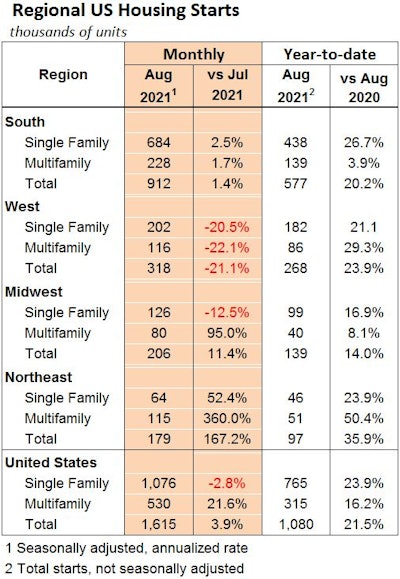 Details in the Digits
Multifamily starts leaped 20.6% to a 539,000-unit annual rate. Demand for apartments has been surprisingly strong and rents have risen, giving developers confidence to move projects forward.
"The apartment market is seeing somewhat of a reversal of the pandemic exodus," says Vitner. "Demand for apartments near major employment centers has strengthened, reducing vacancy rates and driving rents higher. Demand also remains strong in the suburbs, with many potential renters opting to renew their lease and wait for housing inventories to normalize."
August's 2.8% slide in single-family construction follows a 4.7% drop in July, but single-family construction remains at a robust 1.076-million-unit pace. Spot-market prices for lumber have plummeted, but those lower prices have not yet made their way to home builders.
Other essential building materials remain in short supply, including windows, cabinets, electric breaker boxes and wedge anchors. Builders are restricting sales due to the inability to let buyers know when homes will be completed.
Builder Confidence Rises in September
The September Housing Market Index (HMI) from the National Association of Home Builders and Wells Fargo points to where the single-family market is headed. The HMI rose one point in September to 76. While the index remains at a high level, it has been cooling since hitting an all-time high of 90 in November. The latest survey shows concerns about lumber prices have eased considerably, but builders are still dealing with widespread materials shortages, which is lengthening the time it takes to complete a home.
"The most encouraging aspect of the September HMI is the slight improvement in underlying demand," says Vitner. "The present sales index rose one point to 82, following four months of decline."
Prospective buyer traffic improved, although it remains well below levels seen earlier this year. Demand for homes remains strongest in the South and West, particularly the Mountain West. New home sales are increasingly being driven by the affordability migration from the West Coast and Northeast to more affordable markets in the Rocky Mountains, Southwest and Southeast. The influx of buyers from higher-priced housing markets has skewed new home sales more toward the upper-end of the price spectrum. Builders have focused their attention at this end of the market as well, contributing to the dearth of more affordable homes currently on the market.
Home Building Retains Solid Momentum Headed into the Fall
While single-family starts and permits both declined in August, the backlog of permitted homes where construction has not yet started rose 1.4% and is now 50% higher than it was last August, sitting at 147,000 units. Most of the increase was in the West, but single-family starts plunged more than 20% in the West. Material and labor shortages have been pronounced there.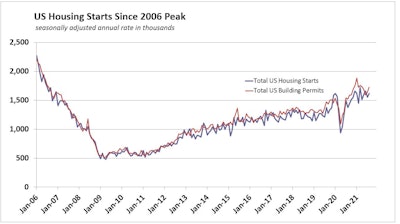 Single-family starts also fell 12.5% in the Midwest.
Builders are working on the problem. The number of single-family homes under construction rose 1.6% in August to 702,000, with most of the gain coming in the South. The number of single-family homes completed in August rose 2.8% to a 971,000-unit annual rate, which is the highest it has been since April. Once again, most of the increase took place in the South, reflecting the continued influx of new residents into Texas, Florida, Georgia, the Carolinas and Tennessee.
Permits for single-family home rose 0.6% in August to a 1.054 million-unit pace. While that is slightly below the pace of starts, we expect single-family construction to increase this fall. The migration away from the West Coast and Northeast to the South and Southwest means a greater proportion of new home construction is occurring in markets that tend to hold up well during the fall and winter. Builders should be able to make some headway clearing out their backlogs, as construction ebbs in other parts of the country this winter and reduces materials shortages.