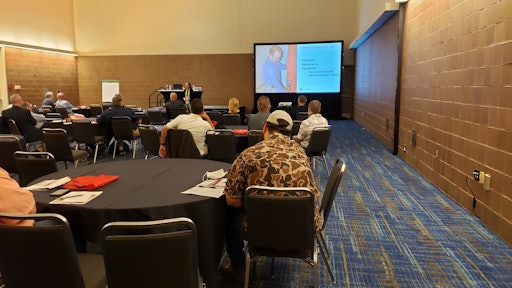 Gigi Wood
The COVID-19 pandemic affected buildings and facilities in a variety of ways. Several changes were made to offices, health care facilities and similar public-use buildings to reduce the frequency of touching surfaces and spreading germs. An unintended consequence of those changes has been an increase in fire hazards.
At the DHI ConNextions conference in October in New Orleans, Kristin Bigda, technical lead of building and life safety at National Fire Protection Association (NFPA), outlined the hazards her organization witnessed since early 2020.
"We're trying to spread the word about the importance of fire door safety and fire door inspection and maintenance," she says.
During the COVID pandemic, many inspections, testing and maintenance (ITM) programs were put on the back burner, while facilities focused on navigating new health and safety requirements to keep buildings and occupants safe, such as implementing social distancing strategies, reconfiguring building spaces, updating cleaning and sanitizing practices, occupancy restrictions and more.
"Obviously, we're all aware of the state of the world over the past couple of years with the COVID-19 pandemic and at NFPA, we got a lot of reports and phone calls and emails looking for advice as COVID-19 kind of hit the world," Bigda says. "It surfaced many unique challenges, many unique problems. The first was obviously, we were leaving buildings. We were leaving spaces isolated and unoccupied for long periods of time and buildings were going awhile without going ahead with their normal inspection testing and maintenance programs."
Once people started returning to buildings and facilities, a new set of challenges arose.
"During the pandemic we heard of, and we're still hearing of cases where fire door safety was unfortunately sort of overridden by the needs for other health safety issues, sanitation issues," she says. "One of the common issues we heard quite often was fire doors being propped open so that people wouldn't touch the door to open it. So they were reducing the contact, trying to prevent the spread of germs in the virus, but unfortunately by doing that, now they compromised that protection in that opening and we were getting word of that in stairwells and with other fire protection-rated doors."
It's important to keep fire safety in mind when implementing building changes. Although changes were made to try to protect people from the virus, building managers must consider the big picture in terms of safety, she says.
"Fire doors being propped open so people wouldn't touch them compromises fire safety," Bigda says. "Changing egress routes for one-way travel means sometimes forgetting fire and life safety. And wedging fire doors open is not permitted."
The NFPA also frequently heard stories about large pallets of bulk storage items, such as hand sanitizer, blocking exits, doors and hallways, she says. People were also propping doors open to avoid touching handles, but propping doors open goes against fire safety best practices.
As buildings return to full operations, it's a great time to reexamine and revamp fire door and ITM programs, to ensure NFPA compliance, Bigda says.
"We're trying to inform people about the importance of fire door safety," she says. "It's also important to do the corrective action."
Bigda reviewed various guidelines for installation, testing and maintenance (ITM) of fire doors, including NFPA 80 Chapter 5 and the 13 inspection points that should be reviewed, including keeping labels visible, now open holes in doors and the frame, hinges and hardware are aligned and secured, for example. Her ITM takeaways included:
Fire doors are a fire protection system and cannot be neglected or overlooked, even for other health and safety issues.
Keep fire doors operable.
Fire door ITM is still new to many owners, contractors and other professionals.
Confirm the edition of NFPA 80 applicable to you.
Bigda also discussed changes to the 2022 edition of NFPA 80, the association's fire door safety guide. Some of the recent significant changes to NFPA 80, 2022 edition cover the following topics:
Non-required opening protectives.
All fire-rated opening protectives.
Annual frequency of inspections.
Fusible links.
Fire door signage.
Other door assembly inspections.
Field labeling.
Swinging doors with fire doors hardware inspection.
To read more about NFPA 80, read the standards here.