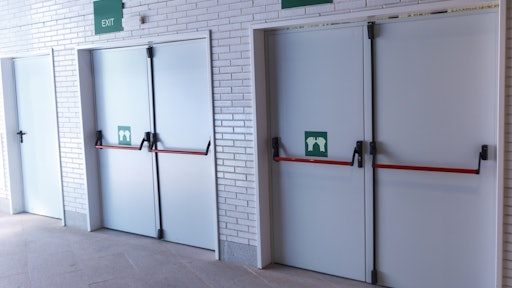 jcg_oida- AdobeStock
Floor access doors manufactured by The BILCO Company were installed in the construction of a new rail line in the fast-growing city of Riyadh, Saudi Arabia.
BILCO, the manufacturer of specialty access products, produced 73 floor doors to provide emergency egress from underground metro platforms at each of the 85 stations along the line. The order was one of the largest in the history of the 94-year-old company.
BILCO secured the commitment from BACS, a consortium responsible for the design and build of several lines of the project, with support from SchlegelGiesse of Dubai. The company is a sister company of BILCO in the Tyman PLC portfolio of businesses.
"BILCO is one of the leading companies in the sector, and the architect recommended them for this project," said Amal Joseph, who oversees technical support for SchlegelGiesse. "They also meet National Fire Protection Association regulations and requirements."
BILCO floor access doors provide reliable access to equipment stored underground or below/between building floors. They are made of aluminum or steel construction. Models include drainage doors, non-drainage doors, doors designed to receive flooring materials, doors for interior building applications, and fire-rated doors. Special application and customized doors are also available. BILCO doors have been installed in high-profile transit projects in Los Angeles, New York, and other large metropolitan projects in the United States.
The Riyadh Metro is just the second metro system in Saudi Arabia. Construction on the $22.5 billion projected started in 2014. The line is expected to become fully operational later this year and will span 176 kilometers (approximately 109 miles) with 85 stations.
 The rail line will help ease traffic congestion in Riyadh, which has seen its population grow to more than 7 million people. Riyadh, the capital of Saudi Arabia, is the most populated city in the nation and is rapidly growing. Riyadh, which had slightly more than 400,000 residents in 1970, is ranked among the 40 fastest-growing cities in the world.
BACS is responsible for the construction of two primary lines on the project. Consortium members include Bechtel, Almabani, Consolidated Contractors Company and Siemens. The consortium is developing the 38-kilometer Blue Line, which includes 22 stations, and the 25.3 kilometer Red Line, which includes 13 stations. BACS is building 40 percent of the stations and 36 percent of the rail lines on the ambitious project.
Shabeer Parambil, sales manager for SchlegelGiesse, said the doors also include important features that make them a good fit for the application. "BILCO uses spring-loaded pistons to operate the doors, which require less maintenance and more durability," Parambil said. "The chance of failure will be nearly zero compared to hydraulic or pneumatic piston operated doors."
Alaa Kabbara, Procurement Manager for the BACS consortium, complimented the work of SchlegelGiesse. "We receive great and excellent support from SchlegelGiesse," he said. "SchlegelGiesse is sparing no effort to extend its assistance and solve any bottleneck at the earliest, and this is highly appreciated."