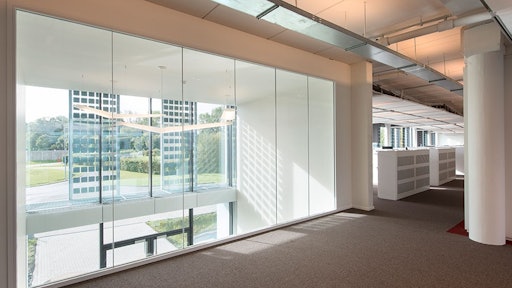 AGC
Representatives from McGrory Glass displayed the company's new product, AGC Vision Line 120 Butt-Glazed Wall System recently at the DHI ConNextions convention in New Orleans, which took place Oct. 20-21.
AGC Vision Line 120 by McGrory is a butt-glazed, fire-rated system for interior, 2-hour transparent walls utilizing Pyrobel 120, a low-iron and impact-safety fire-resistant glass. Tested and rated without the requirement of bulky or expensive framing, the system can be rapidly deployed while meeting aesthetic and budgetary requirements.
AGC Vision Line 120 by McGrory features:
120-Minute, 250oF temperature rise transparent wall system
Continuous installation with unlimited number of panels of block glass sizes up to 40 in. x 114 in. (4,560 in2)  
Narrow 4mm vertical joints for maximum transparency
Low-iron, multi-ply laminated glazing with 84% visible light transmission and 48 STC
"AGC Vision Line Fire Resistant walls is a very nice installation," says Richard Whitcombe of McGrory Glass. "You take your panel, you set it in the wall opening, you put an intumescent tape down the center and then glaze the next panel right next to it and cap it off with silicone, allowing for a 4mm sight line at that joint for maximum transparency. You can have an unlimited amount of panels for the entire duration of the wall. Ratings include from 60 minutes all the way up to a two-hour wall rating."
Pyrobel 120 By AGC is listed for use in doors, sidelites, transoms, borrowed lites and wall applications with a fire rating of up to 120 minutes. This product meets ASTM E-119 and UL 263 heat barrier performance criteria and is impact safety-rated and meets ANSI Z97.1 and CPSC 16 CFR 1201 Category One and Two. 
Watch a video demonstration here.