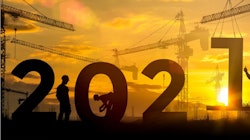 2020 is behind us, but there is still a lot of uncertainty lingering in our future. For the construction industry, the pandemic and its aftermath have caused plenty of issues, affecting nearly all aspects of the industry.
While there seems to be a light at the end of the tunnel, construction is still feeling the impact. Despite this uncertainty, construction businesses still need to plan as best as they can for the remainder of 2021.
We asked experts from the National Association of Home Builders, Associated Builders and Contractors, Dodge Data & Analytics and Associated General Contractors of America to share their thoughts on what they expect for the construction industry in 2021.
Download the report below for access into industry insights.