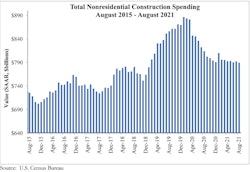 Associated Builders and Contractors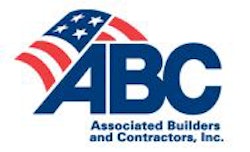 National nonresidential construction spending fell slightly 0.4% in August, continuing an ongoing slide propelled by pandemic concerns, supply issues and government policy inaction. According to an Associated Builders and Contractors (ABC) analysis of data published by the U.S. Census Bureau, nonresidential spending totaled $788.6 billion in August on a seasonally adjusted annualized basis, down 3.0% from August 2020.
Spending declined on a monthly basis in 10 of the 16 nonresidential subcategories, with transportation spending remaining flat. Private nonresidential spending was down 1.0%, while public nonresidential construction spending rose 0.5% for the month.
"The nonresidential construction spending data are among the most interesting to monitor as the economy continues to wrestle with COVID-19, supply chain disruptions and rampant uncertainty regarding the direction of federal policymaking," said ABC Chief Economist Anirban Basu. "Nonresidential construction spending dynamics are shaped by all of the major forces shaping economic outcomes today, including labor shortages, surging input prices, massive liquidity and wavering confidence."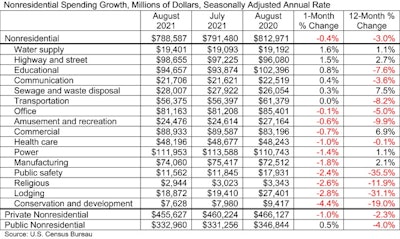 Adding to the industry's woes, ABC previously reported a sharp decline in its Construction Backlog Indicator to 7.7 months in August, based on a survey conducted from August 19 to September 1. The reading was down 0.8 months from July 2021 and 0.3 months from August 2020. The decline was attributed to higher materials prices and labor costs conspiring to put more projects on hold or, in some cases, rendering projects infeasible.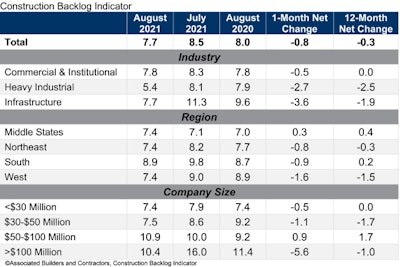 "A growing number of contractors indicate that the combination of increasingly expensive labor and rising materials prices are inducing more project owners to postpone work," said Basu. "This has manifested itself in a number of ways, including the inability of nonresidential construction spending to achieve growth and a recent decline in backlog, as measured by ABC's Construction Backlog Indicator. As if this were not enough, a bipartisan infrastructure package that appeared set to pass is now jeopardized by jumbled political dynamics."
Despite the many challenges, Basu noted that contractors have continued to express confidence in near-term prospects, at least until recently, based on ABC's Construction Confidence Index. "For economists, who have been focused on phenomena such as the growing volatility of asset prices, rising freight costs, ongoing lockdowns in parts of the global economy and still-high infection rates in America, that expression of abundant confidence has been somewhat surprising," he commented, adding that the August data release "reminds us that challenges abound, with the trajectory of the nonresidential segment remaining on a downward trend that has now been in place for many months."
Yet, contractors collectively have indicated they still anticipate sales, staffing levels and margins to rise over the next six months. Though the expected pace of improvement may have softened, several dynamics remain cause for optimism.
"With so much liquidity continuing to be injected into financial systems, investors have considerable sums to deploy in new investments. Real estate valuations and construction volumes benefit from such dynamics," Basu stated. "Recent dips in commodity prices and more normal labor market functioning should help translate into slower cost escalations and rebounding backlog during the months ahead, ultimately reversing the backlog decline sustained in August."
Information provided by Associated Builders and Contractors and edited/enhanced by Becky Schultz.