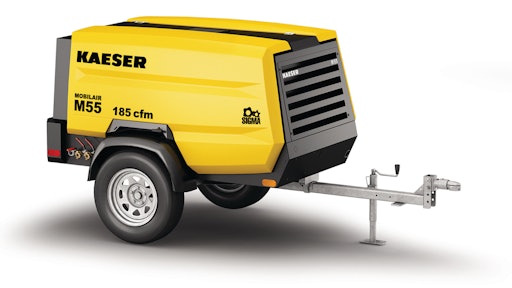 Kaeser's new compressor delivers 185 cfm at 100 psig — adjustable up to 125 psig. The heavy-duty Tier 4 Final D1803CR-T Kubota diesel engine, coupled to the new Sigma 17G airend, produces even more air with less horsepower. With its large 21-gal. fuel tank, the M55PE can run fully loaded for 10 hours before refueling. 
"Rental customers expect durability and reliability in their rental equipment. Kaeser's new M55PE introduces highly innovative double-walled, roto-molded polyethylene gull wing doors," says Chance Chartters, sales manager - Mobilair. "Not only do the roto-molded doors resist rust, dents and scratches, they also provide excellent sound attenuation while reducing the overall weight of the compressor. Additionally, the new Kaeser M55PE offers larger 15-in. wheels and tires to provide excellent towing both on and off-road. All this together with Kaeser's highly efficient Sigma Profile airend coupled with a Kubota diesel engine make for the ideal rental compressor package."
The galvanized steel chassis is topped with a scratch and dent-resistant polyethylene enclosure with wide-opening gull wing doors for easy access to maintenance points.
"The M55PE's polyethylene gull wing doors are available in many different color options that can be customized to a rental company's branding. Additionally, the M55PE is available in varying pressure ranges and optional air treatment packages to accommodate the diversified applications many rental companies see today," Chartters says.

Ease of service is always important, he adds. "The easier a compressor can be serviced the more likely it will be serviced. The new Kaeser M55PE offers a spin-on compressor oil separator cartridge that can be changed in a matter minutes, not hours, while still providing superior air/oil separation."
"Another key feature our customers ask about is ease of operation. The M55PE offers a user-friendly Sigma Control Smart controller that provides easy one touch operation to start and stop the compressor as well as added flexibility in adjusting operating pressures. This controller also provides service reminders and alerts for the rental company to assist in maintenance and troubleshooting."
The eye-level, rear side instrument panel featuring the Sigma Control Smart electronic controller includes an intuitive user display, system monitoring and diagnostics. Another key feature is a cold start battery that assures year round reliability and Kaeser's anti-frost valve prevents tool freezing.

"At Kaeser innovation is the key to success. Along with the innovative polyethylene doors that provide superior protection and durability, Kaeser offers one of the most efficient portable compressors in the market. By engineering our own airends that deliver more air per horsepower and coupling it with highly-efficient and reliable diesel engines, such as Kubota, we offer one of the most diversely trusted portable compressors in the industry," Chartters says.