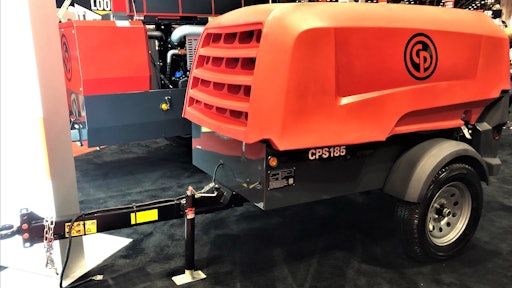 With the latest rotary screw technology, the CPS 185 offers 189 cfm free air delivery at 2.37 gallons an hour. A 27-gal. fuel tank is sufficiently sized to operate the unit for more than 11 hours at full-load condition. The machine is equipped with a Kubota Tier 4 Final, turbocharged, three-cylinder, liquid-cooled diesel engine. It has an engine output at a rated speed of 49 hp at 2,700 rpm.

"This is a complete redesign of the standard 185 compressor, which we have built for many years," says Clayton Jones, product manager — portable air with  Chicago Pneumatic Power Technique. "Having this prior model allowed us to listen to the market and add technology, must have features and still keep customer impact of cost at a minimum."
The new and improved product comes standard with new technology in a spin on oil separator filter and built in tool box. There is also a very user friendly and simple design controller to operate the unit, Jones adds.
One controller regulates the entire machine. The new Xc1004 controller features a large 3.5-in. display and is easy to operate with all functions conveniently located at the user's fingertips. While running, the panel displays hours, fuel level and outlet pressure, as well as additional measurements, such as RPM, temperatures, voltage, etc.
The CPS 185 now features a noise dampening Redrock canopy made out of a heavy double polyethylene shell. The canopy is dent and UV resistant.
The engine is capable of starting the compressor at 14° F with the aid of a standard glow-plug. Cold start options are available to start the unit up to -13° F. In addition, it features a number of safety warnings and shutdowns for high temperature engine coolant and compressor oil, engine oil pressure and low fuel level. The CPS 185 compressor also includes a 110% spillage-free containment frame to protect the environment from spills, leaks and to avoid costly clean up.
"For the future sometimes it is tough to tell what will be the new game changer. Service is absolutely at the forefront of technology. The less time the unit is down means more revenue as well as project completion. Footprint is the new request and how we can put as much energy into a light and small design," Jones says.

"In all reality we are in line with this class compressor by going to the spin on filter," Jones says. "We do a good job with the overall design and materials used to keep the unit from showing wear and tear. This allows for a high resale value once it is time to replace with newer equipment. This is definitely an added value for customers."