©quickshooting – stock.adobe.com
Several years ago, Michelle Walker, VP of Finance and Administration at SSC Construction, noticed a sizeable amount of construction workers were dying by suicide. Shortly thereafter, the Center for Disease Control (CDC) released a study entitled, "Suicide Rates by Major Occupational Group – 17 States, 2012 and 2015", which confirmed her observation. The study found that in both 2012 and 2015, the Construction and Extraction census occupational group held the largest percentages of male suicides (19% and 20% respectively), demonstrating a 22% growth over those three years.
In 2016, Walker, along with the Construction Financial Management Association (CFMA), created the Construction Industry Alliance for Suicide Prevention (CIASP) as a CFMA task force, and later as a standalone 501(c)(3). "We assembled the organization to build awareness in the industry and create resources for contractors to take action," says Walker.
This year, the CDC released an update of the report, "Suicide Rates by Industry and Occupation – National Violent Death Reporting System, 32 States, 2016" confirming that the construction industry (this time split into two census groups, "Construction" and "Construction and Extraction") continues to hold the No. 1 position.
High-risk Culture
The construction industry has a lot working against it when it comes to the mental health and safety of its workers. Men account for the bulk of suicides and the majority of the construction industry's workforce (97% according to the Bureau of Labor Statistics). Together with social pressures on men to suppress talking about how they are feeling and an industry laden with tough guy stoicism, you have a framework that practically encourages workers to suffer in silence.
Also read: The Dangers of Social Stigma and Shame
The stoic, tough guy mentality that surrounds the construction industry, and the positive aspects of self-sufficiency that draw people to the industry, are the very same personality traits that create a high-risk culture unable or unwilling to seek treatment for mental health conditions, Walker explains in a Caterpillar Inc. webinar, "Mental Health on the Jobsite." Another high-risk community is veterans — some of whom may be suffering from trauma experienced during their service — who are often drawn to the construction field..
Long hours can produce both physical and mental fatigue, and constant job relocation can result in poor connection to one's family and friends, causing a feeling of isolation. Not to mention, during the time of COVID-19, layoffs and seasonal work have increased while the country waffles between health and economic security. The added stress of unemployment with no foreseeable resolution creates an unprecedented amount of insecurity that can have significant emotional and mental health consequences.
One overlapping issue is the opioid epidemic. The physical demands of the job can lead to self-medication through alcohol, drugs or opioids, which increases the likelihood of suicide.
Mental Health on the Jobsite
There are several reasons that a mentally healthy worker is important for a construction jobsite, the first of which is, of course, the safety and well-being of your crew. A happy and healthy workforce is a more productive workforce. As a matter of fact, some of the key signs of mental distress are lethargy, lack of motivation, difficulty concentrating or absenteeism — all of which hinder productivity and safety in some way.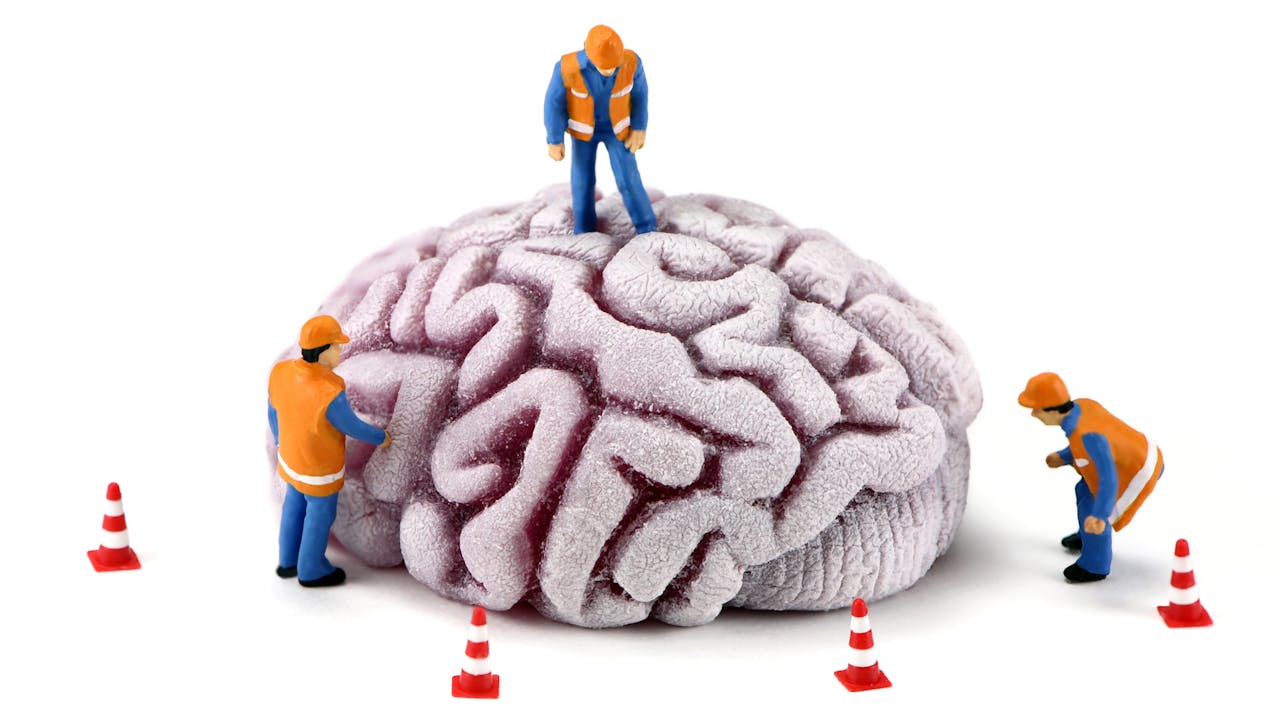 ©Amy Walters – stock.adobe.comAnd a brutally honest rationale for good mental health beyond the thousands of dollars that are lost due to lower productivity is that the construction industry is already experiencing a workforce shortage. In an industry that is already perceived as dirty, dangerous and outdated, let's not add an unsupportive and unhealthy mental work environment to the list.
Dr. John Pompe, Global Manager of EAP and Employee Health Programs at Caterpillar Inc., wants to make sure workers understand that most mental health conditions are very treatable with a lot of help available; this is why it is so unfortunate that a majority of people never get help. "We have conditions that are common with significant disruption in our lives and at work, yet most people aren't getting the available help," he points out. "So, it ends up becoming something employers themselves need to be invested in in terms of employee engagement, employee productivity and safety, creating the right kind of culture and taking good care of your people."
Mental health is also a simple risk management issue regarding HR and safety impacts. Walker notes, "As I look at an industry where the workforce is an issue, and taking care of our people and making sure you have the best engaged workforce that we can is necessary in order to get the work done each day, and safety is such an important issue — how can you not address [mental health] and look at the entire person?"
Mental Health Does Not Have to be Related to Illness
Mental health is a continuum. It does not have to be related to an illness. It could be someone dealing with a personal loss, financial issues, relationship problems or a slew of other circumstances that can contribute to a person's mental well-being and their ability to concentrate. In an industry that is consistently in risky environments and operating dangerous, heavy equipment, distractions or an inability to focus on the task at hand puts both the workers and the public at risk.
When we look at environments where people feel comfortable to share things that are happening in their lives — because sometimes the simple act of talking about it can be enough — it's about creating the systems and structures where an honest dialogue about a person's mental state can be addressed.
When we look at environments where people feel comfortable to share things that are happening in their lives — because sometimes the simple act of talking about it can be enough — it's about creating the systems and structures where an honest dialogue about a person's mental state can be addressed. An open communication system can empower a fellow coworker to ask the simple question, "Are you okay? Do you feel safe to be here?" If the worker states he or she is okay to perform the job at hand, at least the coworker knows to keep a closer eye on the person for their own safety and the safety of the other workers.
CIASP launched the STAND Up initiative to help prevent suicide while addressing it as a health and safety priority. STAND represents:
creating safe cultures,
providing training to identify and help those at risk,
raising awareness about the suicide crisis in construction,
normalizing conversations around suicide and mental health,
and ultimately decreasing the risks associated with suicide in construction.
The COVID Factor
To say that the COVID-19 pandemic has exacerbated mental health issues would be an understatement. The anxiety, isolation and mounting unemployment is enough to negatively impact mental health, but add on top of it an unclear end to it all, and human beings reach capacity — surge capacity to be specific.
In a recent article in elemental, a Medium health and wellness publication, "Your 'Surge Capacity' Is Depleted – It's Why You Feel Awful," author Tara Haelle cites Ann Masten, PhD. "Surge capacity is a collection of adaptive systems – mental and physical – that humans draw on for short-term survival in acutely stressful situations, such as natural disasters," Haelle writes. "But natural disasters occur over a short period, even if recovery is long. Pandemics are different — the disaster itself stretches out indefinitely.
"'The pandemic has demonstrated both what we can do with surge capacity and the limits of surge capacity,' says Masten. "When it's depleted, it has to be renewed. But what happens when you struggle to renew it because the emergency phase has now become chronic?"
Caterpillar's Dr. Pompe weighs in: "All of us have been experiencing more stress. We've been disrupted in our lives. Our comfort zones have been turned upside down. Our anxiety and stress related to not just the disruption but the concern about health risks for ourselves and our communities has risen in recent months."
Data suggesting a spike related to COVID-19 is lagging, he says; however, "anytime there is a major stressful event like a natural disaster, we do see the rates of mental illness go up, so I do anticipate seeing those numbers go up." And while Dr. Pompe notes that in the beginning of the pandemic, many "rose to the occasion" employing their coping resources to abide by stay-at-home orders and adjust to the circumstances, he worries that as this continues on, fatigue will set in and our coping mechanisms will become depleted, mirroring Masten's "surge capacity" comments.
"Don't wait until you are in the depths of depression or experiencing significant symptoms. Now is the best time to think about stress management and what it is that you do to cope with difficult times in your life. Keep an eye on yourself and those around you."
Dr. Pompe urges those experiencing struggles and early symptoms to not wait to seek help. "Don't wait until you are in the depths of depression or experiencing significant symptoms. Now is the best time to think about stress management and what it is that you do to cope with difficult times in your life. Keep an eye on yourself and those around you," he emphasizes.
Walker adds that while the construction industry went largely unaffected by job loss as projects continued in many places, this was an opportunity for the leaders of the construction community to continue the conversation with workers about mental health and wellness. This includes coping mechanisms and the like to bring home to loved ones that may have been experiencing a more significant impact, such as children being isolated from their social groups or spouses dealing with layoffs or home school stressors.
And so an industry fraught with suicide and mental health issues now has a pandemic layered on top. Attention to the construction industry and its workers' mental health and wellness has never been more important than it is currently.
"We can broaden our thinking of mental health beyond just the sickest of the sick to realize that mental health is part of the human condition [and needs] to be taken care of on a regular basis… We're not talking about the 'other guy' or the rare occasion — we're talking about everyone," says Dr. Pompe.
Reforming Management Culture
Historically, in the heavily masculine culture of construction, management tactics involved belittling or disciplining workers for underperforming. Walker asks, "How are we creating a sense of belonging and community" in an otherwise very transient industry? Workers and crews may only briefly work together on several projects, and therefore things like gradual behavioral changes that would otherwise be a warning sign may go unnoticed.
So, how is management addressing behavior changes? If lowered performance is met with disciplinary action, this can actually increase an at-risk worker's sense of burden on the jobsite and to others. Managers and workers alike should all be equipped to have the conversation and say, 'We've noticed some changes in your behavior. Is something going on that is impacting you that we can help with?'
"Shifting the culture from one of discipline to one with consideration for employee mental health and suicide risk management tactics is a key area where we can help push people toward help instead of further from help and deeper into that sense of despair," says Walker.
Dr. Pompe emphasizes that management or coworkers should never be concerned about addressing a person's well being. "It's not a matter of whether you should or shouldn't address it, but rather how you should address it.," he emphasizes.
Leaders should know the signs to look for and make it a part of their routine supervision process. "If you are asking people on a daily basis 'How are you doing today?' whenever your concerns go up a bit, it's already a part of your communication strategy," Dr. Pompe says. Possibly even more important than asking the question, is be sure you are equipped to receive an answer. "Listen, show compassion and empathy, and be prepared to problem solve and offer resources."
"Nobody commits suicide because they are asked if they are thinking about committing suicide," says Dr. Pompe.
Ask the question. Get your employees talking. It could save a life.