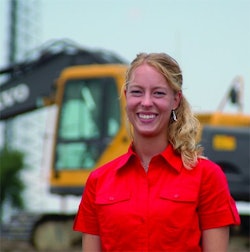 201 N. Main Street
Fort Atkinson, WI 53538
Managing Editor, ForConstructionPros.com
Phone:
(800) 538-5544 ext. 1233
Kimberly is the managing editor of ForConstructonPros.com. She has over a decade of experience in B2B writing and publishing, specifically focused on the construction industry covering topics including business management, technology, contracts and legal concerns, concrete, pavement maintenance, labor issues and more. She also manages many of the ForConstructionPros.com newsletters including Headline News, Construction Zone Safety, New Machine Solutions, Lube Report and The Contractors Best Friend.
As part of her work on ForConstructionPros.com, Kim has written for the Contractors Toolbox blog. Kim's blog has been nominated twice for JDR Industry Blogger Awards.
Kim also edits videos and the Digging Deeper podcast on ForConstructionPros.com. Digging Deeper discusses all aspects of the construction industry with a variety of influential construction business owners and experts in the field. Topics include: equipment operation, safety, business management, technology and labor issues across the construction industry, but we also dive deep into niche markets like concrete, rental and asphalt. See more at forconstructionpros.com.

Prior to working on ForConstructionPros.com she was an associate editor on Concrete Contractor and Pavement Maintenance & Reconstruction magazines.
Connect with Kim Hegeman and ForConstructionPros.com on Facebook, Twitter (@4ConstructnPros), LinkedIn and Instagram (4constructionpros). Email Kim at khegeman@acbusinessmedia.com

Kim was born and raised in Wisconsin. She has a Bachelors Degree in English-Creative Writing and a minor in Journalism. In addition to writing for the Web, she is focusing part of her professional career on data analytics, search engine optimization and content performance. What that means for ForConstructionPros.com and its audience is that Kim is finding the best ways to make ForConstructionPros.com content more visible and easily found through search engines on the Web. Through her research on content performance she is helping ForConstructionPros.com and the sister construction brands discover and develop the types of content and subject matter the construction audience is most interested in, searching for and reading. She hopes that through her SEO and data analytics research that she will help ForConstructionPros.com and its sister print publications produce the content you, construction contractors, want to read most and content the readers will find most helpful.

When Kim isn't writing for ForConstructionPros.com, she spends her time coaching a high school dance team, writing about dance and enjoying time with her family.