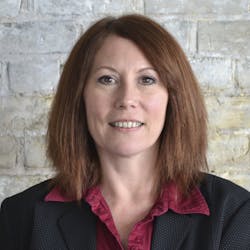 201 N. Main Street
Fort Atkinson, WI 53538
Editor, Equipment Today Magazine
Becky Schultz is the editor of Equipment Today, the premiere industry publication for commercial construction professionals, and is a regular contributor to ForConstructionPros.com. She previously served as editorial director of Sustainable Construction, a primarily digital property for the green building and construction sector, and briefly served as interim editor for Rental magazine.
Becky is a graduate of the University of Wisconsin – Whitewater, where she earned a degree in English with a technical writing emphasis and a minor in Speech/Communications. Throughout her college years, she interned and then worked part-time for several different publications at Johnson-Hill Press (JHP) in Fort Atkinson, WI.
Following graduation, Becky became managing editor for a custom agricultural publication at Schroeder Publications, Monona, WI. In 1991, she returned to JHP as an editorial assistant at Equipment Today. She rose to associate editor and was later promoted to editor of FEED & GRAIN magazine, another JHP (later Cygnus Business Media) property. After successfully overseeing this publication's growth over a three-and-half year period, Becky returned to Equipment Today as editor in 1998.
Becky has continued to expand her role to including developing and overseeing custom projects (print and interactive) for the publication and site, writing exclusive content for the web portal, managing Equipment Today's social media accounts (Facebook, Twitter, Instagram, Pinterest), development of videos and podcasts and more.
Becky and her husband live in Fort Atkinson and are the proud parent of two grown daughters. Her interests outside of work include making memories with family and friends, travel, spending time outdoors, music and theater and literature.