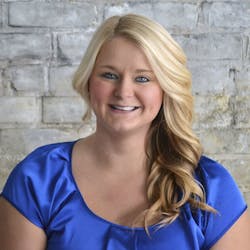 201 N. Main Street
Fort Atkninson, WI 53538
Editor, Asphalt Contractor
Jessica Lombardo joined Asphalt Contractor & Pavement Maintenance and Reconstruction as the associate editor in 2013. Lombardo assumed the role of editor for Asphalt Contractor Magazine in 2017 and has over seven years of experience writing for the construction industry.
As editor, Lombardo seeks to better the asphalt industry by finding out the problems contractors face every day and working to help solve them. Through her in-depth research approach, Lombardo uses social media, industry associations, manufacturers and contractor experience to dive in to the pressing issues and creates content that addresses them.
"Growing up, I was always asking questions and that has helped me immensely in my career," she says. "Today, I love listening to the stories contractors have to share about the industry they've chosen to dedicate their lives to. It's made my career choice so rewarding being able to share their stories while also helping them to do their jobs more efficiently."
As the industry faces increasingly challenging labor struggles, Lombardo focuses on talking to members of the National Asphalt Pavement Association and other organizations to help share best practices for recruiting workers to the industry. She also knows it's important to focus on employee training and retention to keep good employees happy. For this reason, many of her "best practice" articles are continually rated as some of the most popular content on our website.
Over the next few years, Lombardo is looking forward to expanding upon the mission of magazine by bringing quality "how to" information to contractors through a variety of media, including the print publication, monthly e-newsletters, the website (www.forconstructionpros.com) and various social media including Facebook and Twitter.
Outside the Office
In her spare time, Lombardo enjoys traveling and has been to Spain, Italy & Germany so far with many other places on her bucket list.
"Travel really opens your eyes to what the world has to offer," Lombardo says. "It inspires awe and wonder and truly makes you appreciate home once you return."
As an avid sports fan, Lombardo also enjoys cheering on the Badgers, Packers & Brewers with an ice cold Busch Light in her hand. She is close with her family and loves spending summers on the pier at Fish Lake.
Lombardo joined AC Business Media in 2013 with a journalism degree from the University of Wisconsin-Whitewater and five years of web writing under her belt. Please join the conversation with her on Facebook, Instagram & Twitter to help her better understand the needs of the industry. She can be reached directly at jlombardo@acbusinessmedia.com.