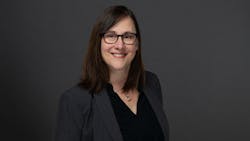 Gigi Wood is a staff writer for OEM Off-Highway, Food Logistics and Green Industry Pros and a contributor for ForConstructionPros.com and Equipment Today.
Gigi is a graduate of the University of Iowa, where she earned a degree in English, psychology, Journalism and a certificate in web development. During her college career, she worked for several different publications, including the student newspaper, local daily newspaper, university printing department and more in Iowa City, Iowa.
After graduation, Gigi worked as a news reporter for several news organizations, including the Associated Press. She was commissioned to write an economic development book about the state of Iowa, which was distributed internationally. Next, she helped run a small business for many years before selling it to a new owner.
Gigi spent the next several years working as a business reporter and editor for the Corridor Business Journal, an online and weekly newspaper in eastern Iowa. She wrote about several topics, ranging from agriculture and manufacturing, to startups and entrepreneurship. During that time, she also worked on several custom publishing and B2B projects. As the local papers covered fewer and fewer city council meetings, Gigi started attending them and reporting on property taxes and commercial development. One of her story series resulted in changes to state law. Following the historic flood of 2008, Gigi followed up with 98 percent of those flooded businesses to see how they fared. She earned local, state and national awards for her work.
She then went on to study web development at the University of Iowa in a business school summer-long bootcamp before moving to Fargo, North Dakota, where there was an abundance of online-related writing jobs. While writing and conducting Google Analytics research in the marketing department of a national electrical parts supplier, one of her projects earned a regional award. In 2018, she was asked to write a book for the Corridor Business Journal commemorating the 10-year anniversary of Iowa's historic 2008 flooding. She then worked as an editor for the Fargo Forum before joining AC Business Media in 2019.
Gigi lives in Fargo with her corgi, Roscoe. Her interests outside of work include spending time with friends and family, taking road trips, flying kites, fishing and enjoying the outdoors with her dog.