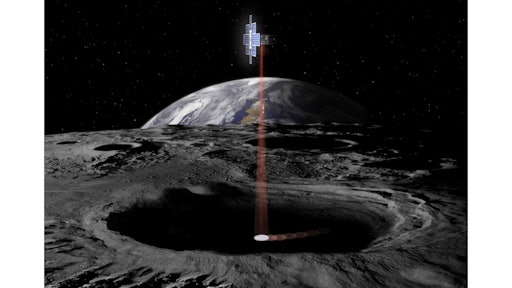 NASA
NASA announced research awards to Colorado School of Mines, Missouri S&T and Auburn University for developing technologies for living and working on the Moon. The selected projects will each receive up to $2 million over two years to develop their technologies. Bechtel will serve as an industrial partner to the teams at the School of Mines and Missouri S&T.
"Creating the technologies we need to explore the Moon requires leveraging expertise from and partnering with academia and industry alike," said Dr. Prasun Desai, deputy associate administrator of the Space Technology Mission Directorate (STMD) at NASA. "These projects show the integral role that universities will play in building humanity's sustainable presence on the Moon."
The three research teams' charges incluce:
Autonomous Construction - Humans living on the Moon will need structures like habitats and landing pads, which can be made more efficiently if they're constructed autonomously by robots. Colorado School of Mines, led by principal investigator Christopher Dreyer, will develop tools and methods for autonomous landing pad construction on the Moon's surface.
Extracting Resources - Supplies for lunar astronauts could be created from what's already on the lunar surface, a process called in-situ resource utilization. Missouri S&T,  led by principal investigator Leslie Gertsch, will use magnetic and electrostatic technologies to more efficiently separate calcium- and aluminum-containing minerals from the Moon's soil, called regolith, to extract materials suitable for construction on the lunar surface.
Extremely Cold Electronics - Without an atmosphere, temperatures during the lunar night plummet to hundreds of degrees Fahrenheit below zero. The Moon's rocky and cratered terrain also creates permanently shadowed regions that never see direct sunlight and continuously experience frigid temperatures that are too cold for conventional electronics. Auburn University, led by principal investigator Michael Hamilton, will take advantage of knowledge from recent lunar missions and other cold-temperature projects to create new electronics that are highly reliable and tolerant of low temperatures.
"Bechtel started as a frontier company more than 120 years ago," said Mike Costas, general manager of Bechtel's Defense and Space business line. "Now, we're thinking about the next frontier. What will it take to build permanent infrastructure on the Moon? What an exciting time.
"Tackling the challenge of building on the Moon will require the know-how of what's already been done in Earth's harshest environments – extreme cold, extreme dust, higher radioactivity – combined with new thinking and approaches," Costas said. "This is a perfect opportunity to collaborate."
Bechtel's support of the space industry began with the Gemini and Apollo programs of the mid-20th century and continues today with Mobile Launcher 2 and the development of off-world infrastructure.
In a Bechtel blog post, Costas outlines some opportunities to enable off-world human missions; infrastructure that includes a safe environment with breathable air, water, mining of natural resources, and power to enable a growing space economy. 
Infrastructure will take on different forms, such as small modular nuclear reactors that will power grids necessary for colonization, Costas says. To develop the necessary technology will take master planning with the commercial space community and the government. "This capability and our approach to managing risk will position Bechtel for emergent evolutionary space delivery models," Costas says.
 As the space industry continues to advance, the infrastructure needed will only become more complex and require cooperation from a large and diverse supply chain. While commercial space companies have successfully applied financial resources to demonstrate space transportation, funding has lagged in other infrastructure needs. Costas suggests the space industry needs to come together to develop the necessary capabilities on Earth, test them in a safe environment, then commit resources to new missions.
The new grants were awarded as part of NASA's Lunar Surface Technology Research (LuSTR) solicitation.