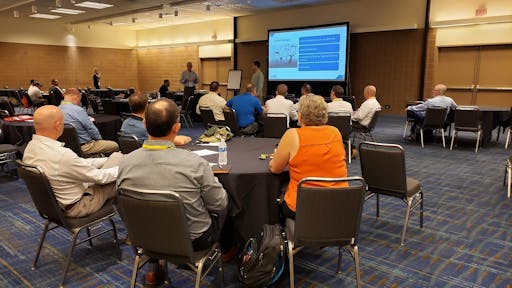 Gigi Wood
Two school safety experts shared the latest best practices in an educational seminar, "Become a Safety and Security Resource to Your School Clients," at the DHI ConNextions conference on Oct. 20 in New Orleans.
The session was led by Mark Williams, board chairman at Partner Alliance for Safer Schools (PASS) and Paul Timm, vice president of Facility Engineering Associates. The two have used PASS guideline and checklist tools in their own work and discussed ways contractors and those in the door hardware industry can help schools follow national standards.
The PASS School Safety and Security Checklist allows contractors and others to track a school's or district's security efforts in comparison to the best practices defined in the guidelines.
The list of the best practices detailed in the PASS Guidelines can be used to assess what may need to be implemented by a school or district. The guidelines can help professionals identify whether they have the recommended school security best practice in place, in progress, needed for the future or not required for a facility. "Whether you are a parent, a student, a teacher, a school administrator, emergency response, or an active member of your community, we can all agree school safety is important," Williams says. "How will they keep schools safe though? It involves so many choices and decisions. Wouldn't it be nice to know what other schools have done? What worked for them? What didn't work for them?"
The PASS tools help schools and contractors:
Build a team.
Support risk assessment and development of security plans.
Develop grant proposals.
Establish safety/security standards.
Avoid pitfalls.
 Access the guidelines here.