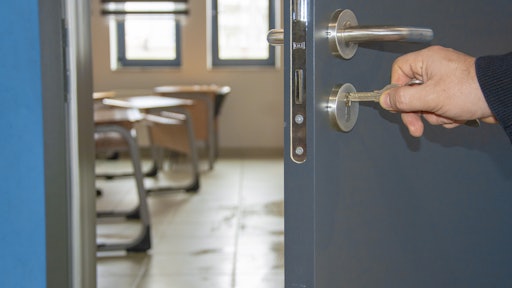 Stock.Adobe- Aycan
Modern solutions combined with specialty locks are becoming the norm when it comes to keeping classrooms and schools safe from intruders.
Electronic locks, key fobs, panic buttons and specialized locking cylinders are being used by schools in order to keep children and teachers safe within the classroom. These devices are easy to use, can be operated in multiple ways and are much safer than hinge locks and door stops.
Electronic Locking Systems
Harrison Ward, Systems Design Consultant with Automated Environments, said physical locking mechanisms are no longer the safest systems when looking at security for a school.
"There are devices that flop over a door hinge or you put under a door to keep it from opening," he said. "The problem with these devices is that you not only lock out the potential intruder but you've also locked the children and teachers inside the classroom. If the intruder starts a fire or sets off explosions then the students can't get out."
Ward said using electronic alternatives are better solutions, allowing teachers and students to have egress, a natural way of pushing the door open. They are also built with battery backups in case the power is shutoff.
"Let's say an intruder comes and is immediately identified," he said. "Staff members can have access to a panic button, which can be on a key chain or in a physical location that can be pressed and the doors will automatically lock." Vulnerability management is the "cyclical practice of identifying, classifying, prioritizing, remediating, and mitigating" software vulnerabilities. Vulnerability management is integral to computer security and network security, and must not be confused with Vulnerability assessment.
"On the door is an electronic device that locks the plunger on the handle," Ward said. "That plunger is replaced with an electronic strike that keeps the door from being opened from the outside."