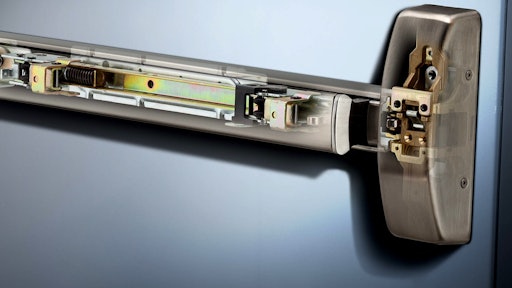 Locksmith Ledger International
Your experience and knowledge of commercial-opening options are valuable assets as you compete with other electronic suppliers for the growing commercial-door upgrade business.
Your recommendations have to balance reliable suppliers with "evergreen" technologies that will serve for the long haul. In many cases, the client will want systems that can expand as necessary or plug into larger enterprise systems. Remember this: Commercial clients value reliability more than just the lowest price.
Here are some areas where electronic upgrades make sense from a security and cost-effectiveness perspective:
Educational facilities, areas of assembly and vulnerable workplaces are installing shelter-in-place solutions that include local or remote lockdown. Even if you don't have the sales contract, you might pick up the installation work.
Touch-free openings suddenly moved from handicapped access to a popular health option for the general public. Low-energy automatic openers that have hand-wave or motion-sensor operation have become a huge market. Entrances, bathrooms and corridor doors now are popular upgrade candidates.
Existing offline electronic locks sometimes can be networked for building or even enterprise-level control through Wi-Fi while adding mobile credentials.
Stand-alone starter kits allow one or a few doors to be tested prior to a large commitment.
Multitechnology readers, such as the new HID Signo series, allow legacy card systems to be integrated into the emerging mobile-credential juggernaut.
Meeting Code Requirements
Code compliance must be considered when performing commercial upgrades. The Americans with Disabilities Act requires that whenever openings in "public accommodations" are modified, they must be brought up to current ADA standards "when it is readily achievable to do so." For commercial doors, you generally will find this means accessible hardware. Modifications might require ADA-compliant single-motion egress through lever handle locks, exit devices or even low-energy operators that have actuator buttons.
Adding a low-energy door operator for exterior, corridor or bathroom doors has become a popular enhancement, particularly with the recent emphasis on infection control.
In some cases, the building might have been repurposed, thus changing the occupancy. We have seen this in areas where office buildings or warehouses are converted to churches, gyms or other uses that have  larger occupancy loads. As a general rule, if the occupancy is more than 50 people, you likely will have to have panic devices at exits. Check with your local authority having jurisdiction (AHJ). Voiding fire ratings is of particular concern in stairwells or other fire-rated openings.
Security Upgrades
Basic security upgrades provide accountability through an offline card or keypad to grant access for small-business applications. In many cases, larger organizations will apply these for after-hours access or employee access at a secondary entrance. You should expect increasing use of mobile credentials in these applications.
Adams Rite, Alarm Lock and dormakaba offer offline and networked versions for narrow-stile storefront electronic upgrades. This stand-alone electronic access control trim can operate latches, such as the AR 4510 deadlatch, and the 8800 or other manually operated narrow-stile exit devices. This application is particularly popular on existing aluminum entrances. Network upgrades also are available for these systems as well.
Existing exit devices often make good candidates for upgrades. Adding a keypad or reader and an electric strike has been popular because of their easy installation and wire runs. Retrofit latch-retraction kits are an increasingly popular option for several reasons. Aesthetics are a big deal, and top-quality exit devices likely have a long service life remaining. In many cases, high-current solenoids can be replaced with low-current, silent, motor-driven latch retraction.
The customer can feel comfortable with the electronic upgrade, because quality exit devices might outlast the building. One well-known exit device recently completed a 10-million cycle test program (maybe 75 years).
Traditional contract hardware companies, such as Corbin Russwin, Detex, Marshall Best, Precision, SARGENT, Von Duprin and Yale developed electrified options for most of their storefront and traditional exit-device applications. Delayed egress and a wide range of onboard switches also are now available.
Electrified latch retraction (ELR) kits for existing exit devices provide your customer with a clean, professional look. ELR kits now are available from manufacturers of most quality exit devices. This application niche provides you with an advantage, because it isn't well-known outside the lock repair industry. Wireless power-transfer devices also now allow you to add power without the necessity of electrified hinges or core drilling.
Low-energy operators can be added to doors that have mortise locks by adding ELR locks from Command Access and by retrofit kits or HiTower frame actuators from SDC. These are available through standard wholesale channels.
Interior Upgrades
Interior doors provide quite a range of upgrade possibilities. Electrified locks and readers have been popular upgrades when better accountability is required. However, smartphones appear to be revolutionizing the way we think about credentials. Just about everybody and his brother now talks about mobile credentials, but a couple players have credible solutions.
Proxess was first to market with a mobile-credential-capable battery-powered cylindrical or mortise lock, the Grade-1 smart cylindrical LoxIQ.  Bluetooth Low Energy-enabled mobile credentials or radio-frequency ID smart cards use high levels of encryption to communicate with the lock. Data is carried to portals for local or enterprise-based system updates and control.
BEST's Switch Core is the first of a complete line of commercial mobile-credential applications. The battery-powered Switch Core drops into any existing small-format interchangeable core housing in seconds, replacing the mechanical core. It can be moved to another door anytime. The mobile-credential app communicates with the cloud through the building's Wi-Fi system or the local cellphone network.
Data in the Switch Core and the mobile credential carry high-level cryptographic keys and are transmitted within encrypted message packets. "Secure-element" memory chips are protected against external attack. The mobile-credential networks eliminate wiring, power supplies and local controllers. These efficiencies reduce total system cost dramatically. 
Installation Tools
Installation tools are worth mentioning. We often serviced electric strikes or latch retraction that hangs up when the door or frame flex from temperature variations. This can be caused by inadequate amperage reaching the solenoid or motor.
Two problems generally are culprits: Resistance was calculated incorrectly (or not at all) for the wire run, or the power supply was inadequate. Command Access has a power-booster module that includes a capacitor to provide a powerful surge at the door for the highest inrush loads.
Another useful Command Access tool is the Cat Field Tester. This tool uses your cordless-drill battery to test continuity and operation of electrified door hardware, even when no building power is available.
Securitron's ICPT was the first wireless power-transfer system for doors. Now, SDC's WPT and  power over internet board create additional power-delivery options. Wireless power transfer eliminates the electrified hinge or the EPT (electric power transfer) and core drilling. Adding the Command Access Power Booster provides all the pull-in amperage that you'll require.
Touchless solutions have gained popularity during the COVID-19 pandemic. As hygiene and ADA expectations increase, you likely will be asked about low-energy door operators and touch-free upgrades. Single- and double-door operators are available from virtually all exit device, lock and closer suppliers. Note that safety codes now require a positive means of dropping power out for 30 seconds where magnetic locks are applied. 
High-End Upgrades
State-of-the-art products now are available to lockshops that possess  highly skilled electronic access control technicians. Although these products might not be available generally through typical wholesale channels, you can find them. These products, such as biometric readers, can do wonders for a customer's image.
Leading-edge biometric readers now are available for stand-alone, networked or enterprise system applications. SekureID has an iris (eye) reader that provides high-security biometric validation through high processing speed and hands-free stand-off operation. Idemia has an infrared facial-recognition process and a hand-wave touchless terminal. Invixium builds a wide array of attractive stand-alone or networked biometric access control and time and attendance terminals.
StoneLock uses a near-infrared scan of subdermal skin characteristics to provide a secure touchless biometric measurement. Resolution is high enough that it performs even in difficult situations. Skin color or racial characteristics are irrelevant. This eliminates privacy concerns, because it's impossible to reconstruct a recognizable facial image for surveillance purposes. The data aren't relevant or useful for any purpose other than to verify that the person is actually the one who was registered.
This impressive "faceless" reader now is available as a stand-alone product or as a component of a larger system from Anixter. These upgrades can give your client a state-of-the-art reader that might make the CIA jealous.
Upgrading commercial doors to electronics is getting more interesting all the time. You surely will find practical solutions for your customers as you check out the websites in the below list. May the force be with you.