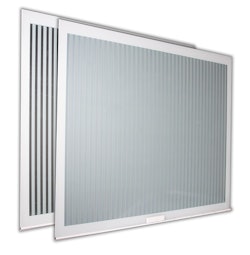 Privacy Glass Vision
Privacy Glass Solutions announces the release of VISTA-Vision. Based on the standard Vistamatic Vision Panels, renowned for their simplicity, durability and refined aesthetics, the patent-pending VISTA-Vision is sure to meet and exceed any design and privacy requirements.
VISTA-Vision and the newest member of the Vistamatic Vision Panel product line brings with it a series of firsts, never seen before on any other Vistamatic product.
Can be used as an exterior panel
Controlled with a magnet, instead of a lever. One finger operation with the magnet control improves the ease of use
Features a 1/2 in. banded panel versus a 1 in. band
Operates by moving vertical lines side to side rather than up and down
Can fit openings up to 70 x 55 in.
"We developed VISTA-Vision in direct response to our existing customers' feedback for a thinner vision line that would still be able to afford privacy," stated Kevin Roth, CEO, and founder of Privacy Glass Solutions. "The addition of the magnetic controller was a direct cross over from our BetweenGlassBlinds products which have proven to be exceptional."
VISTA-Vision comes standard with 1/2 in. vertical banded lines. Narrower than the standard VISTA-Max panels, these 1/2 in. banded panels offer an enhanced viewing area, whilst bringing a touch of elegance to any environment. The triple glazed system consists of three sheets of glass with evenly spaced, alternating vertical lines, which are operated using an innovative sliding magnet mechanism. When the magnet is slid, the inner sheet of glass moves side to side to enable observation and, by sliding the magnet back, vision is obscured. In the closed position the panel presents itself with a completely obscured viewing aspect, while in the open position the lines move across the screen, presenting viewing of approximately 1/2 in. between each one. VISTA-Vision is the first Vistamatic Vision Panel to be controlled with a magnet, instead of a lever.
"Product improvements are heralded as the needle mover in any company. However, the number of improvements incorporated into this new product extension is unheralded.", said Jamie Clingan, chief marketing officer, Privacy Glass Solutions. "The improvements were so vast and so solid that we simply had to patent the design."