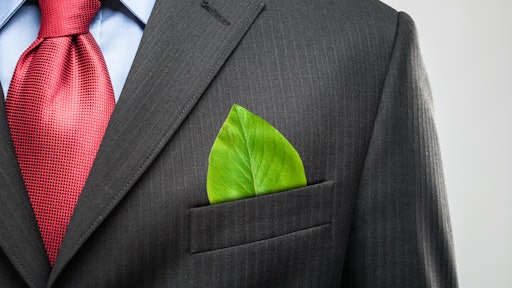 Minerva Studio- Adobe-Stock
How is ASSA ABLOY creating solutions to contribute to future sustainability needs and to meet the net zero target?
The World Green Building Council's (WorldGBC) definition of a net zero carbon building is "a building that is highly energy efficient and fully powered from on-site and/or off-site renewable energy sources."
The WorldGBC has developed a global campaign to challenge companies, cities, states, and regions to reach net zero operating emissions by 2030, and to advocate for all buildings to be net zero in operation by 2050.
"Buildings and construction account for 39 percent of energy-related carbon emissions globally," says Charles Robinson, Director of Sustainability, ASSA ABLOY. "Door openings and access points in a building are responsible for up to 11 percent of a building's energy losses. Net zero buildings are required to substantially reduce these emissions."
ASSA ABLOY's solutions contribute to net zero buildings by helping to reduce the overall carbon footprint and substantially improve the energy efficiency of a building. 
"Installing our high performance thermally efficient doors, frames and gasketing can help to significantly reduce energy losses, while maintaining maximum thermal comfort for a building's occupants," Robinson explains. "ASSA ABLOY also has a broad range of energy efficient solutions to help minimize energy consumption."
For example, our high-speed doors help maintain low temperatures in cold storage rooms in grocery stores and warehouses by opening and closing in seconds. That way a minimal amount of warm air can enter the cold storage, meaning less usage of coolers.
Looking ahead, our Sustainability Compass is our innovation tool based on lifecycle thinking and circular economy principles. It is central to enabling us to create solutions to meet the needs of net zero buildings.
"The compass is vital for our business," says Zeljka Svensson, Director, Global Innovation. "We can see an increase in customer need for 'green building' attributes and so it is natural for us to develop and offer solutions to satisfy those needs."
By using the ASSA ABLOY Sustainability Compass we secure 'sustainability by design.' For example, our North American Product Development team was guided by the compass in designing a new hurricane-resistant door, which has the highest level of hurricane protection while also having an attractive and more energy-efficient entrance. 
"Using the compass as a checkpoint really tells us if we are on target or if we are missing the goal when we are developing a product," says Steven Fontaine, project leader and design engineer. 
Green building standards such as the global certification program LEED encourage the use of environmental product declarations, documents that reflect the impact of a given product throughout its life cycle. To date ASSA ABLOY has completed 325 of these declarations, which builders and architects request to achieve LEED or other green building certifications. 
"Our solutions can make a major contribution to net zero carbon buildings, by reducing energy consumption and cost, while also providing safety, security, convenience and peace of mind for our customers," Charles Robinson concludes.
This article originated on https://www.assaabloy.com